News
Embracing Texture Opens January 14 in Norris Gallery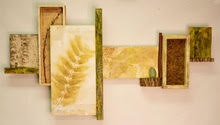 "Embracing Texture", the Winter 2023 exhibit in the Norris Galleries, opens Saturday, January 14, and will remain on display through February 19. The exhibit includes artwork in any 2D or 3D medium that depicts and/or incorporates texture.
An awards reception honoring artists whose work is included in the show is scheduled for Sunday, January 22, 2 to 4 p.m. Free refreshments will be served. Admission to the reception and the exhibit is free of charge.
Gallery hours are 11 a.m. to 4 p.m., Thursday through Sunday.
(Image shown – "Big Spring," by Cheryl Holz – is from the exhibit.)